PRODUCT CHANGE NOTIFICATION
Surgical Drape base material changing, effective immediately!
Click Here For Printable Version To Post In Surgery
THE SITUATION – LACK OF 'SMS' BASE MATERIAL DUE TO COVID, FACEMASKS
Many of our surgical drapes and all of our Sterile Field gowns have been produced of the SMS base material (photo left). Surgical facemasks are also made of this base material. As a result of the COVID-19 outbreak, facemask demand is at an all-time high and a much larger percentage of the worldwide SMS supply is now being sold for the production of facemasks. Accordingly, the supply of SMS has been cut to all producers of drapes and gowns worldwide, both human and vet. That's why gowns are in such short supply these days.
OUR PLAN
Since surgical gowns must be made of breathable material (and SMS
is breathable), we are utilizing all available SMS to produce gowns.
Our surgical drapes, currently SMS, can be made of other materials
with even better barrier qualities.
WHAT YOU'LL SEE
All AHS drapes, both single/sterile and in our procedure packs, will convert to our proprietary VetSx material. This material has a fully absorbent top side and a film barrier on the patient (under) side, providing an excellent barrier to strikethrough – actually better than SMS.
WHEN WILL THE CONVERSION OF MATERIALS HAPPEN?
All production of AHS drapes, beginning immediately, will be of the VetSx material. So all current part #'s will be converted within the packaging to VetSx. All drapes in the Sterile Field Procedure Packs will also be converted to the VetSx base material.
HOW LONG WILL THIS SHORTAGE/SUBSTITUTION LAST?
We will use the VetSx material until further notice. We forecast using it for all of our surgical drapes for at least a year and maybe longer until the supply of SMS roll stocks is ramped up.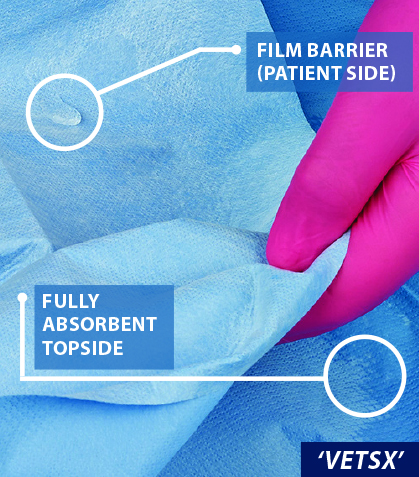 If you have questions, please contact
Animal Hospital Supply at 888-874-0595, Option 2