Material 'Basis' Weight
All gowns are made of a single base material. Depending on the material chosen, the weight of the material (often characterized by 'thickness') may have some bearing on the barrier quality.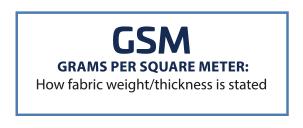 Coatings and Treatments
A second means of producing a barrier on any base material is to coat the fabric with a fluid repellent. The surface of the material is bathed in a waterproofing agent to seal against liquid penetration.
Reinforcement Panels
Another type of barrier built into some gowns is a reinforcement panel built into the 'critical zones' of the garment. Reinforcements are panels of either a second layer of base material (basically doubling the basis weight) or a poly film or other panel glued or sewn to the base material.
The critical zones are the areas of the gown most likely to experience the highest risk of fluid passing through during a procedure primarily due to saturation and/or pressure– chest and arms – so these areas would most likely have reinforcement panels. Not all procedures generate significant fluids, so most veterinary gowns are 'non-reinforced.'
Gown Construction – sewn or sonically welded?
No single-use human surgical gowns are sewn. Why? Because needle-puncture holes allow for fluid penetration. All Sterile Field gowns are ultrasonically welded, up the full length of each sleeve, to ensure no fluid penetration where the seams of the sleeve come together.
Reinforced critical zones for bloody cases
Sealed (not sewn) sleeves keep fluid out
Don't Be Afraid To Reach Out Your Paw
Interested in learning how better materials can improve your operations?